The Jews of Lebanon
History and Records
By Alain Farhi
The 32nd IAJGS International
Conference on Jewish Genealogy
Paris, 15 -18 July 2012
As Webmaster of the website des Fleurs (see page 19 Avotaynu, Vol XXI, Number 1 Spring 2005), I have come across many Jewish families from Lebanon who had emigrated after its several civil wars and wars with Israel.
The genealogy of the many families linked to the author's own family has been published on Les Fleurs. That information includes a document by the late Ferdinand Anzarouth (1917-1997) entitled "Les Juifs du Liban", written a year before his demise (http://www.farhi.org/Documents/JuifsduLiban.htm).
Years later, that article came to the attention of a businessman in Morocco, Nagi Zeidan, a Lebanese national. Mr. Zeidan was researching and writing a book on the Jewish communities of Lebanon. For that purpose, he had single-handedly translated Arabic newspapers, electoral lists (1983) and death records in order to establish a large database and history of Jewish families living in Lebanon until the 1980s. I published several excerpts (in French) of his work in progress on Les Fleurs website.
This paper presents the results of Nagi Zeidan's research. Initially, he collaborated with Mrs. Mathilde Tagger, an expert in the publication of Jewish databases, and also with Isaac Salmassi and Cecil Dana both of whom have extensive personal knowledge of the Lebanese Diaspora, and are familiar with Hebrew and Arabic scripts and languages. Later, surmounting the suspicions of some former Lebanese Jews about the motives behind his questions, Zeidan befriended many of them on Facebook, with the result that their collaboration created an ever-growing genealogy database of such families.
The death records database of the Jewish communities of Beirut has been published on Dr. Jeffrey Malka's SephardicGen.com website. The genealogical information is also partially available on Les Fleurs, with the usual restrictions of privacy for living people.
The author would like to thanks all those dedicated genealogists who worked on these projects. And now to today's topic.
Lebanon History and Geography
<![if !vml]>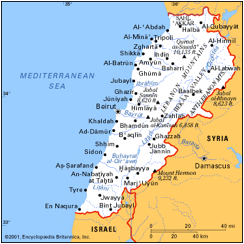 <![endif]>
Lebanon (recent map)
The country we know today as Lebanon was carved out of the Greater Syria, a country created following the fall of the Ottoman Empire after World War II and put under a French Mandate.
During the Ottoman Empire and prior to 19th century, the area known as Balad El Cham extended from Turkey to the Gulf of Akaba. Around 1834, with the first construction of roads following the invasion of Ibrahim Pasha's armies of Akko, namely the roads from Beirut to Damascus, from Damascus to Jerusalem and from Jerusalem to Jaffa, the Ottoman Empire created three main provinces (wilayats): Mount Lebanon with the Mediterranean Coast from Akko to Turkey (with Beirut as capital), Syria from Aleppo to the Red Sea on the west side of the Jordan river (capital Damascus) and Palestine (capital Jerusalem).
In 1920, the Greater Syria under the French was split again into Lebanon (something referred to "Le Grand Liban") and Syria; and Lebanon achieved its independence in 1943.
Lebanon was originally a part of an area called Phoenicia in the Bible and in older sources. Its capital was Tyr that was linked to a small university town the Romans called Beryte or Beritus. Jewish prisoners were concentrated there after the fall of Jerusalem and the destruction of the Second Temple
Kirtsen Shultz, a historian at the London School of Economics, claimed in her book "The Jews of Lebanon" that the first Jews came to Tyr around 1000 BCE. Jewish residents were first recorded there during the time of King Solomon, when it is thought that Jews were involved in selling cedar for the construction of the Temple in Jerusalem. However, it is more likely, as recorded in the Bible, that these trees were sold by Hiram, King of Srour (Tyr) without any Jewish middlemen. (Source: St Takla Coptic Bible: http://st-takla.org/Full-Free-Coptic-Books/FreeCopticBooks-002-Holy-Arabic-Bible-Dictionary/06_H/H_247.html).
Little is known about the history of Jews in the area subsequent to that first dispersion, except for some ancient tombstones found in the port area of Saida (Sidon). (Source: Ferdinand "Fred" Anzarouth). Saida and Tripoli were the main commercial centers of the Mediterranean coastline.
In 1173 Saladin expelled the non-Muslim from Jerusalem and Safed. In that same year, Benjamin de Tudela, travelling from Zaragoza to Jerusalem (1165 to 1173) reported that there were about 50 Jews in Saida, mostly working in the dyeing of threads and textiles.
<![if !vml]>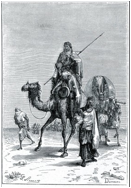 <![endif]>
Travel by Caravan
A census, conducted for the Ottoman authorities by Nabil Khalife in 1519, reported the presence of 19 Jews in Beirut, probably having fled from the plague that ravaged Jerusalem in about 1514.
There is a reference in the Jewish Encyclopedia of 1905 to 5 Iraqi Jews who had settled in Beirut. They were from the Levy family and lived near Saint Elie Catholic Church and the Assaf Mosque. In 1807 they built a synagogue named Mesguad Ladek (demolished in 1930). Many Ottoman immigrants moved into the same area that became known as Haret el Yahoud (the Jewish Quarter).
At the beginning of the 19th century (ca 1832), the population of Beirut included 400 Europeans from Italy, France and Austria, settled there for trading reasons. None of them were Jewish. (Source Zeidan)
Over the years, Jews from Akko (1809), Greece (1821-30), Egypt, North Africa (1837), Aleppo and Damascus (1900-1948), Iraq and Iran (1900-1955), and Ashkenazim from Europe (1833,), also settled in the Lebanon.
The port of Beirut became important after the decline of Akko in the 19th century. (Thomas Philipp, ACRE. The Rise and Fall of a Palestinian City, 1730-1831 , Columbia University Press, New York, 2002).
In June 1860, following civil unrest and rioting between the Christian and Druze population in the town of Deir El Kamar, Barook and Hasbaya, the Jewish families from these cities moved to Aleh and Damascus. Among them the Zalt, Dahan, Khabieh and Zeitoune families. Those from Hasbaya became known as Hasbani.
<![if !vml]>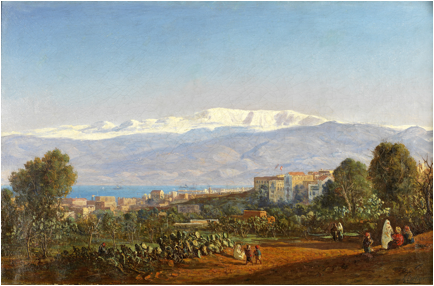 <![endif]>
City view of Wadi Abou Jamil in 1860
(Louis Lottier - Vue générale de Beyrouth prise de Wadi Abou Jemil - 1860 - Collection privée)
In around 1869, one of the Picciotto families (wealthy traders and consuls in Aleppo) emigrated from Aleppo and built a mansion for themselves in Wadi Abou Jamil, close to Beirut. This became the new Jewish Quarter of Beirut.
<![if !vml]>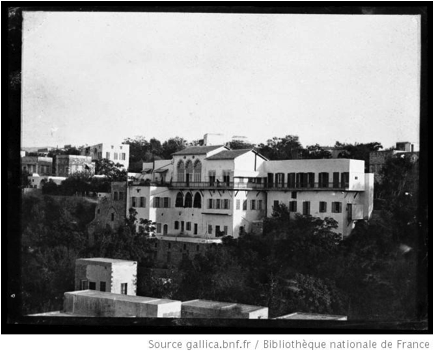 <![endif]>
Picciotto Mansion 19th Century
By 1940, most of the residential houses of Haret el Yahoud had been converted for commercial use as their owners moved to Abou Wadi Jamil. Haret El Yahoud was destroyed in the Civil War of 1976.
The scale of the immigration into Lebanon can be seen from the Montefiore censuses of 1846-1861-1884-1885-1889-1893-1895.
Jews lived in the following cities: Beirut, Saida. Tripoli, Deir el Kamar, Barouk, Hasbaya, Tyr, Aley and Zahlé. After the construction of the Beirut-Damascus railroad in August 1895, Aley became a popular weekend destination for the Jews of Beirut.
By the 20th century, the Jewish communities of the following towns had vanished due to emigration to the larger cities – Baalbek, Deir el Kamar, Ramiche, Mokhtara, Hasbaya and Tyr (where Jewish emigrants from North Africa bound for Safed settled in 1834 following the devastation of Safed in an earthquake). The 20 families of Hasbaya left the town after riots in 1860. Ramiche had only one remaining family - the Grunbergs who owned a cheese factory there until 1911.
Lebanese 1932 Census
An official census was conducted in 1932, when many Jews from Damascus claimed to be Lebanese just to get recorded in the civil records. The Census recorded only 3,531 Jews in just 5 cities:
| | |
| --- | --- |
| Beirut | 3,060 |
| Maten | 5 |
| Deir el Kamar | 7 |
| Tripoli | 51 |
| Saida | 384 |
| Zahlé | 24 |
Beirut
In Beirut Jews lived in the following districts:
Acharafieh (7 families)
Bachoura (8 families)
Dar El Muraēsseh (25 families)
Marfa'a (108 families)
Mina El Hossen (901 families)
Ras Beirut (11 families)
Rumeil (1 family)
Saēfi (14 families)
Zukak El Bulat (14 families)
Wadi Abu Jamil had the highest concentration of Jewish residences, businesses and institutions (schools, synagogues etc). It is part of the Mina El Hossen electoral district.
Saida
Nagi Zeidan states (from undeclared sources) that when the Egyptian Mamelouk armies took over Saida between 1289 and 1291, about 20 Jews lived there. By 1489, their number had dropped to fewer than 10. At the time of the Ottoman Census of 1519, 36 Jews lived in the town, the increase due most probably to the immigration of Sephardim from Spain. The first Franco family came from Italy in about 1700. (Source: a letter dated 2 June 1712 from Mr. Achille, French consul in Saida).
The city was destroyed by an earthquake on 30 October 1768, after which many Jews fled to Haifa. The cholera epidemic of May 1813 sent more Jews to Beirut.
The first synagogue in Saida, was built before 1600. In 1855, it was expanded to accommodate its 250 members by adding two rooms. I was called Kadnom. This synagogue was later known as the Sidon Synagogue. According to the Montefiore census of 1855, 453 Jews lived among 5000 Moslems and Christians. An archeologist (Roger Saidah) did find in 1969 a column dating from 47 BC signaling the existence of a synagogue in Dekerman near its seaside cemetery.
Riots in the mountains of Lebanon (1860) caused many Jews to move to Saida; but the opening of the Suez Canal in 1869 started a massive emigration of Jews to Egypt from all the Ottoman Empire. A few had ventured to Brazil by the turn of the century.
After the beginning of the French mandate following the fall of the Ottoman Empire, several bomb explosions frightened the Jewish population; and by the end of World War II, only a few Jewish families remained in Saida. During the Lebanese civil war, their total number dropped to 40; and by 1985 none was left. Only the Jewish cemetery now remains as a trace of their passage.

For Saida the numbers of families are as follows:
Number of

Year

Families

Individuals

922

1

1110

60

1173

20

1289

19

1291

20

1498

09

1519

36 men

1521

20

1750

20

1830

25

1838

625

1839

373

1850

250

1852

600

1855

453

1858

600

1861

700

1866

589

1893

604

1901

750

1907

918

1908

781

1914

888

1925

352

1932

348

1956

1108

1975

40

1984

03

1985

0
Zahlé
A few Jewish families emigrated from Damascus to this small agricultural town in the Bekaa valley. A Katri family lived there from 1902 to 1911. In 1932, a few families - Abraham, Faour, Katri and Kataifi also lived there. They remained until the 1960s but did not establish a synagogue, school or cemetery in the town.
Montefiore Censuses
From 1839 to 1876 Sir Moses Montefiore commissioned censuses of the Jewish populations of Alexandria and the Holy Land (which included the area now called Lebanon).
The 1839, 1840 (Alexandria only), 1849, 1855 and 1866 Censuses have been placed on the Internet by the Montefiore Endowment and can be consulted openly at this URL. Work is continuing on the 1875/6 census. The 1866 and 1875 did not over Beirut & Saida.
http://www.montefioreendowment.org.uk/census/
Lebanese Records for Jewish Residents
A list of all Jewish names can be compiled from census records and electoral rolls. The more recent censuses were conducted by a State Agent in the presence of the Mokhtar of each city or area. The Mokhtar, a civil servant with duties like the mayor of the city, was supposed to know all his constituents personally and had to certify the accuracy of the censuses.
The Censuses recorded everyone present in the country, while the Electoral Lists included only the Lebanese nationals,
In the local Jewish folklore only three families - Hana, Dana and Mana -were considered ethnically Lebanese while all the other were immigrants. In fact those families also started as immigrants, from Akko, Tunisia and Lithuania respectively, but had lived in Lebanon for so long that no one remembered their origins.
From 1925, under a free trade and customs agreement, Lebanon and Syria were run separately but as part of a union between the two countries. Syrian nationals who came to Beirut were never granted Lebanese nationality automatically. Under that Union, abrogated by Syria in 1950, Lebanon occasionally gave citizenship to Syrian immigrants from Damascus but denied it to those from Aleppo. There was no direct legal path to citizenship, which was granted by the authorities as they saw fit – and in practice only to a few resident businessmen: taxpayers never got it.
After Israel's independence in 1948, Syria stopped issuing passports to Jews and many Syrian citizens already residing in Lebanon suddenly lost their passports.
Stateless Lebanese residents could buy foreign passports and become Iranian or Panamanian nationals. However, these passports carried no right of abode in their issuing countries. Lebanon, like many other Arab countries, issued Laisser-Passers to its stateless Jews for a one-way trip out of the country.
At the height of its population explosion following the immigration of the refugees from Aleppo in 1950-1952, the Jewish community of Lebanon numbered about 10,000 people. Later, many emigrated to Israel, Europe, North and South America as well as to Asia and Australia: this was mostly for economic reasons and was seldom due to religious or political persecution. The Lebanese civil wars accelerated the exodus. Between 1975-1980, several Jews including the President of the Jewish Community were kidnapped for ransom and often murdered by various gangs.
In an article published in the Lebanese paper Al-Nahar in 1995, it was claimed that the community had been reduced to 4,000 by 1971.
According to some observers, the number of Lebanese Jews who voted for candidates representing Minorities in the 1970's elections may not have exceeded 1500 votes.
From 2009, the Electoral rolls included about 9,000 Jewish names - even though many had died or emigrated (L'Hebdo Magazine 1 Mai 2009 p 48). Such lists may have been used for electoral fraud. In 2005, the list for Deir el Kamar contained 100 names but only one cast a blank vote in protest.
By now, (Al Akhbar 12 April 2012), uncorroborated Lebanese sources put the post-1984 Jewish population at 200, mostly living in hiding. According to Jewish sources that number should be fewer than 30, with many married to Christian and Muslim partners.
The Jewish community of Lebanon reached its greatest expansion, fame and glory during the French Mandate. They owned newspapers, banks, international trading companies, real estate companies as well as many small businesses in Beirut and smaller cities.
Size of Jewish Population
Estimates of the Jewish population vary widely. Before the first emigration wave of 1948 to the mid 1950s the Jewish community of Beirut is said by some sources to have numbered about 25,000. Mathilde Tagger estimates the figure at only 5,000, Kirsten Shultz about 14,000 and Isaac Salmassi fewer than 10,000. No formal records of the exact number of Jewish residents exist. Death records, however, were well recorded and maintained to this day.
The following table shows brief details of the growth and emigration of the Jewish population over the centuries.
| | |
| --- | --- |
| Year | Population |
| 922 | 1 family in Saida |
| 1173 | 50 source Benjamin de Tudela |
| 1519 | 19 men - Census Nabil KhalifeE |
| 1799 | 5 |
| 1824 | 15 families (about 95 individuals) |
| 1830 | 25 families (about 150 individuals) |
| 1832 | 200 |
| 1840 | 25 families (about 150 individuals) |
| 1846 | 250 |
| 1849 | 29 families (Sir Montefiore Census) |
| 1861 | About 1000 |
| 1884 | 995 (61 Ottoman nationals: 5 men et 26 women |
| 1885 | 1,061 (553 men et 508 women) |
| 1888 | 1,464 (723 men et 741 women) |
| 1889 | 1,500 |
| 1893 | 2,083 (282 Ottoman nationals: 143 men et 139 women) |
| 1895 | 889 |
| 1900 | 2,500 |
| 1922 | About 1.000 families |
| 1925 | 3,500 |
| 1932 | 3,060 (1437 men et 1623 women). |
| 1956 | 5,000 |
| 1976 | 60 |
| 1980 | 20 |
| 1982 | 95 |
| 1984 | 25 families in East Beirut |
| 1986 | 50 individuals |
| 2001 | 100 individuals in Lebanon |
| 2004 | About 73 individuals in Lebanon |
| Oct. 2006 | About 35 individuals in Lebanon |
| 2012 | |
Family Names
The following table shows a list of surnames for Beirut families.
Surname of Jewish families (Beirut)

Sephardim

Ashkenazim

ABADI

CARRIO

HADDAD

NAHMOUD

ADLER

ABOUHAB

CAZES

HADID

NAHON

ALBERT

ABRAHAM

CHACHO

HAKIM

NAHOUM

APPPELROT

ADDISSI

CHAHINE

HALABI

NAMER

BERNSTEIN

ADES

CHAKI

HALLAK

BUCHBINDER

AJAMI

CHALHON

HAMADANI

OBERSI

DOUBIN

ALALOU

CHALOM

HAMISHA

OZON

FROUMIN

ALBAMNES

CHAM'A

HANAN

GLAZER

ALFIE

CHAMMA

HANONO

PARIENTE

GOLD

ALWAN

CHAMMAH

HARA

PEREZ

GOLDBERG

AMRANIAN

CHAMS

HARARI

PESSAH

GOLDMAN

ANTEBI

CHATTAH

HASBANI

GREEN

ANZAROUTH

CHAYO

HASSOUN

PHLOSOPHE

GREENBERG

ARAMAN

CHEKOURI

HASSOUNI

PICCIOTTO

ISRAEL

ARAZI

CHEMTOV

HAZAN

PINTO

KATZ

ARGALGI

CHENI

HEFEZ

PQLITI

KOSLOVSKI

ARMOUTH

CHOUA

HELOUANI

PARIENTE

KOUGEL

ASKENAZI

CHOUEKEH

RABIH

KROUK

ATTAR

CHOUELA

JAJATI

ROUBEN

LEHRER

ATTTIEH

COHEN

JAMMAL

SALMASSI

LERNER

AZAR

COHEN

JAMOUS

SAAD

LICHTMAN

AZOURY

COHEN-KSHK

JMAL

SAADIA

LOUBELCHIK

COSTI

JUDA

SABBAN

LOUBLINER

BAGDADI

COSTO

SAFADI

MARGOLIS

BALACIANO

KACHI

SAFDIEH

MOISE DR

BALL Y

DAGMI

KALACH

SAFRA

PERLIN

BALLAILA

DAHAN

KAMHINE

SAKKAL

RAPPAPORT

BALLAS

DANA

KAMKHAJI

SALEH

REDIBOIM

BARI

DARWICHE

KARAGUILLA

SALEM

REINICH

BARUCH

DAYAN

KARKOUKLI

SANANES

ROGOVSKY

BARZILLAI

DAYE

KASSAR

SANKARI

ROMANO

BASSAL

DDELBOURGO

KATTAN

SARFATI

ROSENHECK

BATTAT

DiCHY

KHAFIF

SASSON

ROSENTHAL

BAZBAZ

DIWAN,

KHASKY

SAYEGH

ROSENZWEIG

BEDA

DOMINIOUE

KHAYAT

SCABA

SAMSONIVICH

BEHAR

DOUEK

KHBUZO

SIDI

SHKOLNIK

BEKHOR

DOUMANi

KHEDOURY

SOFER

SOPHER

BENCOL

DURZIE

KHEDRIEH

SROUGO

STEINBERG

BENISTI

KRAYEM

SROUR

TAUBER

BENJAMIN

ELIA

STAMBOULI.

TESLER

BENJUOA

ELIACHAR

LAHAM

SUTTON

TOYSTER

BERAKHA

ELKAYEM

LANIADO

BERCOFF

ELMALEH

LATI

TABBAKH

TURKIEH

BIGIO

ELNEKA VE

LAWI

TAGER

VINACOUR

BLANGA

ESKENAZI

LEVY

TARAGAN

WEINBERG

BOCHI

ESSES

LISBONA

TARRAB

ZIBERBERG

BODEK

LIZMI

TASCHEH

ZIEZIK

BONDI

FAKES

TAUBY

ZIRDOK

BOUCAI

FARHi

MAMIEH

TAWIL

BRAUN

FEREM

MANN

TAYAR

BTESCH

MARCOS

TELIO

GABBAY

MASLATON

TOTAH

GREGO

MASRI

TOUBIANA

GUER (LE)

MASRIEH

GUINDI

MAWAS

YEDID

METTA

HABBOBA

MHADDEB

ZAVARRO

HALAWA

MIZRAHI

ZAAFARANI

MOGHRABI

ZAROUKH

MOLKHO

ZEITOUNE

MORALLI

MOUCHON

MOUADDEB

MOUSSALLI
The following family names are from Saida.
Acher, Araman, Balaciano, Barzilai, Bassal-Levy, Benesti, Boukai, Chamoun, Cohen, Liniado. Dana, Diwan, Essysie, Ghershon, Hadid, Isaac, Kattan, Khabieh, Khalili, Khayat. Khodary, Laoui, Levy, Lozieh. Mann, Mansour, Nigri, Politi, Salem, Simantov, Srour, Yehuda, Zeitouni.
Origins of Jewish Families
One can derive the country of origin of some families from the Electoral Lists and Censuses,
| | | |
| --- | --- | --- |
| Family name | Declared Birth Place | Real Origin |
| Abadi | Aleppo | |
| Alfieh | Beirut | Damascus |
| Allouan | Beirut | |
| Apelrot | Lublin | Poland |
| Azrial | Jerusalem | Greece / Bulgaria |
| Balaila | Damascus | Damascus |
| Bellelli | Alexandria | Alexandria |
| Benisti | Saida | Saida |
| Bercoff | Jerusalem | Poland |
| Charles | Beirut | |
| Cohen | Aleppo | |
| Cohen | Manisa, Turkey | |
| Corcos | Beirut | Morocco |
| Dana | Beirut | Tunisia via Akko |
| Darwich | | Saida |
| Dichy | Beirut | |
| Ferbol | | |
| Franck | Eisenstaedt | Austria |
| Gebra | Aleppo | Aleppo |
| Goldenthal | Zanzibar | Zanzibar |
| Greco | Aley (Lebanon) | Greece |
| Halfoun | Adana | Turkey |
| Jabés | | Egypt |
| Kalach | Beirut | |
| Kamensky | Odessa | Ukraine |
| Khezbo | Beirut | Damascus |
| Kugel | Simferopol | Ukraine |
| Levy | Odessa | Ukraine |
| Levy | Saida | |
| Lisbona | Damascus | Damascus |
| Lusca | Poland | Poland |
| Mann | Beirut | Lithuania |
| Menache | Istanbul | Turkey |
| Moghrabi | Beirut | Morocco |
| Perez | | |
| Philosophe | Istanbul | Turkey |
| Pikovsky | Jaffa | Russia |
| Pilov | Bulgaria | Bulgaria |
| Salame | Damascus | Damascus |
| Salem | Ain Kini (Lebanon) | Greece |
| Sasson | | Baghdad |
| Shalom | Aleppo | Aleppo |
| Srour | Tripoli | Deir El Kamar |
| Tabach | Iskandaroun | Syria |
| Vogelman | Shumen | Bulgaria |
| Zeitouni | Saida | Deir El Kamar |
| Zeller | Modena | Italy |
Chief Rabbis of Lebanon
The community of Lebanon had the following Chief Rabbi from 1799 to 1921.
| | | | | | | |
| --- | --- | --- | --- | --- | --- | --- |
| From | To | Rabbi | Birth | Death | Burial | Comments |
| 1799 | 1829 | Moïse Yedid-Levy | | 1829 | Ras El Nabaa, Beirut | |
| 1829 | 1849 | Raphael Alfandari | | 1849 | Ras El Nabaa, Beirut | Likely as many tombstones are not readable |
| | | Aharon Yedid Levy | | 1871 | Ras El Nabaa, Beirut | son of Moise |
| 1849 | | Youssef Isaac Mann | | | Ras El Nabaa, Beirut | Likely as many tombstones are not readable |
| 1859 | 14 Jul 1865 | Abraham Laredo | Tetouan | 14 Jul 1865 | Saida | Born in Tetouan, Morocco |
| | | Nathaniel Acher Corriat | Oran | ca 1870 | Oran, Algeria | Born and died in Oran Algeria |
| | | Zaki Cohen | 1829 | 1904 | Alexandria | Born in Aleppo |
| | | Menashe Ezra Sutton | 1822 | 1885 | Ras El Nabaa, Beirut | May have been buried in Aleppo as he was chef Rabbi of both Communities |
| | | Jackob Bukai | Saida | 1900 | Ras El Nabaa, Beirut | |
| | | Acher Nathaniel Corriat | Oran | Alexandria | | |
| | | Haim, Eliahou Dana | 1842 | 13 Dec 1903 | Ras El Nabaa, Beirut | Born in Acco - son of Eliyahou son of Isaac son of Youssef |
| | | Moise Yedid-Levy | | 7-Apr-17 | Ras El Nabaa, Beirut | son of Aharoun son of Moise Wakil (deputy) Hakham Bashi |
| | | Haim Dana | Saida | 11-Apr-28 | Ras El Nabaa, Beirut | son of Mordehai son of Youssef son of Mordehai son of Youssef |
| 1909 | | Nassim Danon (Effendi) | Turkey | | | Wakil ( deputy) Hakham Bashi |
| | April 1921 | Jacob Tarrab | Damascus | | | |
| April 1921 | | Chabetay Bahbout | | | | First Chief Rabbi of Lebanon |
| | | | | | | |
Jewish Schools in Lebanon
Local communities created Hebrew schools. In Beirut, the first was set up in June 1878 near Haret el Yahoud. In July 1878, a local newspaper (Lissan el Hall) reported that it was located at a site facing the sea at the Place des Canons (now Place des Martyrs) off la Rue de Damas. It also reported that its students were from Beirut, Damascus, Alexandria and Baghdad. The principal was a Rabbi Isaac "Zaki" Cohen who was born in Aleppo in 1828 (he died in Alexandria in 1904) and he was assisted by his two sons: Selim and Raphael.
L'Ecole de l'Alliance Israelite Universelle opened its first school in Lebanon around 1878. In 1888, sixty students were enrolled and were taught French, English, German as well as Arabic and Hebrew. In 1896, 96 boys and 102 girls were enrolled with 6 teachers (4 men & 2 women). In 1926, a third school was built under the name of Ecole Selim Tarrab. It was later taken over by l'Alliance.
In Saida, the first Alliance school opened in 1902.
Cemetery of Beirut
The Jewish cemetery of Beirut is located in Ras El Nabee.
The first tomb recorded was the one for Rabbi Moise Yedid-Levy who died in 1829. In 1857, the Ottoman government, seeking to enlarge the Beirut to Damascus road, moved several tombstones and re-located them amidst older ones. When the original cemetery became too small for its 150-tombstone capacity, it was expanded and now has 3,308 tombstones, of which the inscriptions on 133 of them are illegible. During the civil war of 1980 to 1987, the cemetery was on the front line between the fighting factions. Although rockets and shelling damaged several tombstones, the cemetery was respected and is kept as such, although without any regular maintenance.
The records of the Jewish cemetery of Beirut are written in registers with entries in French and Arabic as described on this page. Dates given are either according to the Hebrew or the Gregorian calendars.
<![if !vml]>

<![endif]>
These records were translated by Nagi Zeidan, with the help of Mathilde Tagger, a well known specialist in database recording and publishing, as well as with that of Mr. Isaac Salmassi and Mr. Cecil Dana who had personal knowledge of the people and families of Lebanon.
The databases are now available on line with both French and English versions on SephardicGen.com, the website of Dr. Jeffrey Malka at these addresses:
English: http://www.sephardicgen.com/databases/BeirutCemeterySrchFrm.html
French: http://www.sephardicgen.com/databases/BeirutCemeterySrchFrmFR.html
<![if !vml]>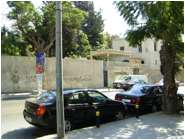 <![endif]> <![if !vml]>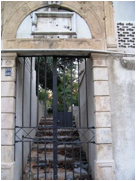 <![endif]>
Street Entrance Door
<![if !vml]>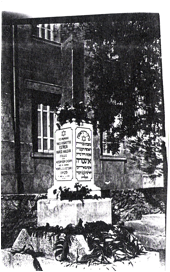 <![endif]>
Tombstone of Estrea Haleva
(courtesy Victor Haleva)
Cemetery of Saida
The death records & database of the Saida cemetery are not yet on the web but some recent photos are shown below:
<![if !vml]>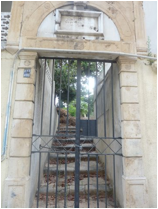 <![endif]> <![if !vml]>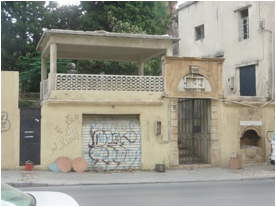 <![endif]>
Entrance Door Street
<![if !vml]>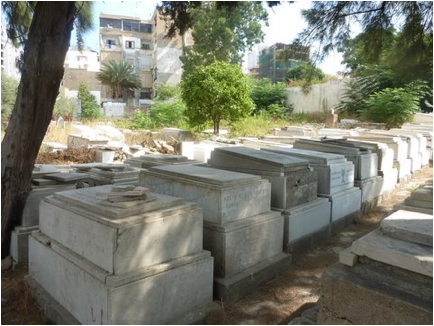 <![endif]>
Tombs
Electoral Lists
From copies of the electoral lists of 1983 & 2009, (see below a sample page in Arabic), Mr. Zeidan had the information transcribed to French in spreadsheet format.
<![if !vml]>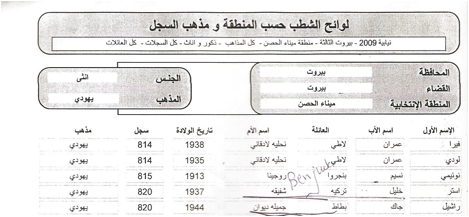 <![endif]>
The data include the names of all the members of the family, with their dates and places of birth, as well as the electoral district of their residence.
No

Surname

First Name

Father First Name

Mother First Name

Mother Maiden Name

Birth

Date

Gender

Birth

Place

District

451

ABADI

Emmy

Hilal

Renée

MIZRAHI

1956

F

Mina El Hossen

451

ABADI

Sami

Hilal

Renée

MIZRAHI

1958

M

Mina El Hossen

451

ABADI

Roger

Hilal

Renée

MIZRAHI

1961

M

Mina El Hossen

2

ABADI

Rose

Hilal

Jamileh

ROMANO

1900

F

Alep

Ras Beyrouth

664

ABADI

Samuel

Hilal

Jamileh

ROMANO

1908

M

Alep

Mina El Hossen

664

ABADI

Toufic

Hilal

Jamileh

ROMANO

1909

M

Alep

Mina El Hossen

664

ABADI

Marco

Hilal

Jamileh

ROMANO

1913

M

Alep

Mina El Hossen

<![if !supportMisalignedColumns]>
<![endif]>
Because the list includes living people, no effort has been made to publish them on line. However, the data of many families already on Les Fleurs website have been updated to reflect the newly discovered information. The usual rules of privacy have been applied to living people (i.e., no personal data is visible to the general public).
Synagogues of Lebanon
The first known synagogue of Beirut, Mesguad Ladek, was built in around 1807. It was demolished in the 1930s in order to build a new road leading to the Parliament and a Hotel.
Only one of 19 Jewish schools, religious schools and synagogues has survived to this day. The Magen Abraham Synagogue (1920) is currently being restored by the Jewish community of Lebanon, the local government and the Hezbollah party, with funding from former Lebanese bankers in Geneva.
Websites and Facebook pages have been created to report on the progress.
Lebanese Jewish Community Council http://www.thejewsoflebanonproject.org/
(Note that this website is not run & operated by the Jewish Community in Beirut but by Aaron Beydoun, an American Lebanese living in Beirut who took interest in the Jewish Community history).
Diarna Project: http://snipurl.com/23tnhck
https://www.facebook.com/BeirutSynagogue?v=app_2347471856
<![if !vml]>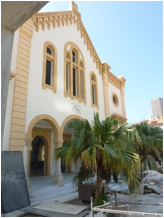 <![endif]> <![if !vml]>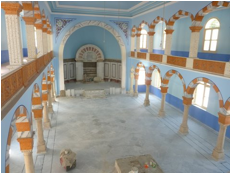 <![endif]>
Faćade Magen Abraham Synagogue Main Hall Renovation
The Jews of Lebanon and the Internet.
The Jews of Lebanon are now dispersed all over the world but remain in close contact via traditional communication links and more recently through the Internet with channels like Facebook, Yahoo & Google groups and a private chat room called B400 (http://www.B400.com).
Conclusion
The author wishes to thank Nagi Zeidan for his work on documenting the history of the Jews of Lebanon and making it available to genealogists worldwide. Access to these translated documents is very valuable to us all as a historical testimony of a displaced Jewish community. The author also acknowledge the valuable contributions of Mathilde Tagger, Isaac Salmassi and Cecil Dana for editing all these databases. <![endif]>
| | | | |
| --- | --- | --- | --- |
| | | | |
| Nagi Zeidan | Mathilde Tagger | Isaac Salmassi | Cecil Dana |
Alain Farhi
July 2012
Rev August 2012